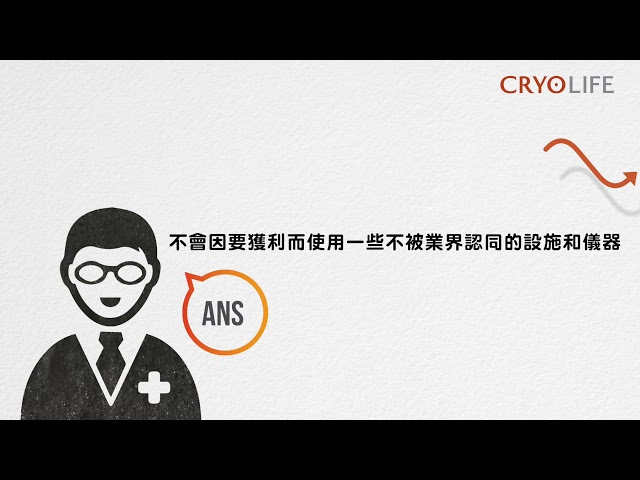 The first cord blood bank in Hong Kong a
dopt processing and storage systems which are used by 90% of the world's medical, prestigious universities and government research institutes.
Conduct scientific research. Industry pioneer
Since its establishment in 1996, CRYOLIFE has been providing Hong Kong with international standard medical technology on Stem Cells Cryopreservation Services. The business scopes are to collect, process and cryopreserve stem cells from umbilical cord blood. With the advanced development of Bioscience and potential of stem cell therapies in the field of regenerative medicine, Cryolife has extended its banking services to umbilical cord and placenta.
Cryolife's mission is to provide the best in class cord blood storage services. As a trustworthy and quality cord blood bank, we devote a large portion of our investment to quality cord blood storages and its applications. We develop several stem cell research programmes with local researchers and organize educational seminar regularly in Hong Kong and Asia to promote and raise awareness to the values and latest medical development of cord blood.
READ MORE
The first AABB (American Association of Blood Banks) Accredited in Hong Kong

CRYOLIFE strives to provide the highest quality cord blood banking services and actively seeks to obtain a number of related international professional certifications as recognition with international accreditations in cord blood processing, quality management, control and inspection.
AABB (American Association of Blood Banks) international certification
The only private cord blood bank in Hong Kong that has obtained AABB accreditation for 14 consecutive years. Assessment of AABB accreditation covers laboratory safety, day-to-day management, crisis management and contingency measures for emergencies plus other requirements under AABB Standards for Cellular Therapy Services (CT Standards).
Cord Blood Laboratory International Certification
ISO9001: 2015 Certification
CAP (College of American Pathologists) Laboratory Accreditation
The ONLY Cord Blood Storage Bank in Hong Kong to share its Cell Count Viability Report openly.
A true quality assurance for Cryolife's customers.
To ensure the quality of cord blood stem cell storages, CRYOLIFE conducts comprehensive quality assurance viability twice a year.Samples were randomly selected from different tanks with different years to test the viability recovery rate and Colony Forming Unit (CFU). All viability test results will be disclosed to our customers and the public for reference.
From the test result records of the past 10 years, the survival recovery rates of stem cell samples from different storage years, some as far back as 18 years ago, are at least above 80%. This fully reflects the excellent processing plus storage quality of Cryolife's services and that cord blood stem cells being cryopreserved properly for more than 18 years are still viable. This quality assurance is critical for future transplantation or regenerative medicine applications for our customers who need to retrieve and use their child's cord blood stem cells.
Quality Assurance Reports
The ONLY Cord Blood Storage Bank in Hong Kong to share its Cell Count Viability Report openly.
A true quality assurance for Cryolife's customers.
Select the best combination of processing and storage technologies
State-of-the-art Equipment
To ensure successful rate of future cord blood transplantation, it is critical that stem cells extracted from the cord blood are of best quality and quantity. For efficient and maximum stem cells extraction, CRYOLIFE uses AXP AutoXpress ™ Platform, which is a closed system (free from infection) and fully automatic to recover 98.7% of MNC (Mononuclear Cell) and 97% of TNC (Total Nucleated Cell) from the cord blood during processing.
For long term stem cell banking, CRYOLIFE uses MVE cryogenic storage system which utilizes vaporized liquid nitrogen (gaseous) as freezing medium. Due to risk of cross contamination among samples within the same storage tanks,  majority of global private cord blood banks adopt this MVE nitrogen gaseous cryogenic storage system.
Read More
Hong Kong patient's first successful case of cord blood transplantation
On September 29, 2009, a seven-year-old Hong Kong girl with cerebral palsy used her own cord blood, stored in Cryolife, for transplant at Duke University (United States). She was the first cerebral palsy Hong Kong patient to undergo autologous cord blood transplantation. CRYOLIFE's specialist team assisted in the air courier of her umbilical cord blood sample from Hong Kong to the United States and in the process ensures that the specimen was optimally preserved with optimal survival during the transportation. When the girl's cord blood sample arrived at Duke University campus in Durham, North Carolina, it was inspected, thawed, and rigorously tested. The medical team in Duke University was amazed to find that cord blood stem cells' viability and survival far exceeded international standards.
Service Commitment and Refund Policy
CRYOLIFE is obligated to serve the community's needs in cord blood storage by providing the best in class collection, processing and storage services. In addition to using internationally recognized cryostorage equipment and processing techniques, Cryolife guarantees quality cord blood banking services with the following service commitments:
Cord blood pick up within 12 hours after notification from customer (24 hours for sample pick up in Macau)
Cord blood processing and storage to be completed within 48 hours after baby was born
Volume report of cord blood collected shall be verbally delivered within 2 working days after baby was born
Test and Storage Report on suitability of cryopreservation being verified and approved by Cryolife's Medical Director, Dr Mak Yiu Kwong (Specialist in Haematology & Haematological Onoclogy) shall be sent to the customers within 2 months of baby's birth
Biannually, conducts randomly selected samples on cord blood viability test as part of QA protocols with results being openly published on website
Laboratory team works 365 days a year on cord blood processing and storages
Professional courier team on 365 days standby for cord blood samples pick up
Service Agreement will be terminated if the cord blood collection is unsuccessful due to emergency situation during birth delivery
Service Agreement will be terminated if the expectant mother gives birth in a Hospital Authority hospital during emergency resulting in failure to collect cord blood specimen
Client could consider to terminate the Service Agreement if the volume of cord blood collected is lesser than 30 ml and/or the number of stem cells harvested from the cord blood sample is less than Cryolife's recommended minimum standard, 2 x 108 which is not suitable for transplantation
Client could consider terminating the Service Agreement if cord blood sample is contaminated (excluding HIV).
However if the maternal blood and/or cord blood sample is tested to be HIV positive, then the Service Agreement MUST be terminated without any refund.